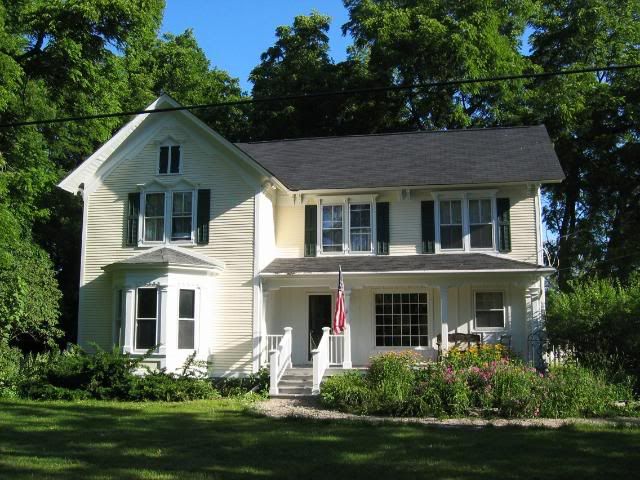 This is how the farmhouse looked shortly after we bought it.
Below is a list of the work we have done on the farmhouse over the last 3 plus years
in no particular order.

Replaced door to basement
Replaced pantry door
Added porch and stair rails
Replaced stairs to three porches
Removed and shored up ceiling in livingroom
Removed carpet and refinished existing pine floors
Added two upstairs bathrooms in one of the bedrooms
Replaced toilet in downstairs bathroom
Painted interior of house
Fenced area for dogs
New wood floor in master bedroom
Built arbor over gate
Built arbor with swing
New wood floors downstairs
Rebuilt chimney
Repointed stone foundation
Replaced faucets in downstairs bathroom
New countertops in kitchen
New sink and faucets in kitchen
Moved stove and added fan and pot filler
New exterior door in livingroom
New exterior door in familyroom
Hung pot rack in kitchen
Shored up doorways in livingroom and entry hall by adding headerboards
Planted fruit trees, roses and hedges
Planted hosta bed behind garage
Relandscaped circle near garage
Added upstairs laundry room
New mantle over fireplace
Added R.O. water system
Covered dry well in basement and added moisture barrier
Removed and pruned black walnut trees
Added warming drawer in kitchen
Added garage shelving
Relocated bats and red squirrels from attic
Added locks to windows
Changed hardware and painted kitchen cupboards
Added battons to plywood siding on garage
Painted garage
Replaced side door to garage
Added locks to front and side doors
Added curtains throughout
Added drip irrigarion system
Changed address on house from one city to one I liked better (that was a trick!)
Changed garage from one big door to two smaller ones
Added fire alarm system throughout house
Upgraded electrical system - grounded outlets
Added cupola and weathervane to garage
Supported floor in livingroom, kitchen and other downstairs rooms
New appliances except dishwasher
New furnace
Added airconditioning and removed window units
New light fixtures throughout
Constructed walkways and patio
Insulated attic and basement
Rebuilt porches (3)
Screened in one porch
Painted exterior with special paint which is now coming off in sheets
Replaced missing corbels and woodwork on exterior

Still to be done.
Repaint one upstairs bedroom
Renovate closets in two bedrooms
Reglaze and repaint windows

All this and the house still looks about the same. There are still draughts in the winter. Basically, I bought the house twice with the cost of repairs but could only sell it for a lot less. Would I do it again? I don't think so. Next time I would like to build a reproduction house and have some idea of what the costs and problems would be.