What is it about winter and bread? Like so many bloggers, I have also been baking bread. I am obsessed with learning to bake sourdough bread a la Zingermanns or Acme bread. My grandson is usually appreciative of my efforts. I do not quite have the crisp crust and large holes inside figured out yet and my efforts are very inconsistant. This seems to have been a relatively good one. We'll see when it cools.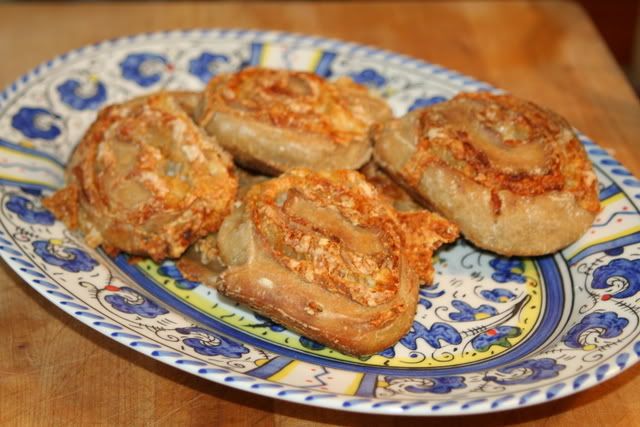 These are some sourdough cheese rolls. They just came out of the freezer so they look a little funny. I just pop them in the oven and reheat them and good as new. They are made with Asiago and Gruyere cheese. Crisp cheese on the bottom-yum. These I can do. The recipes for the sourdough bread and cheese rolls are in the cookbook below.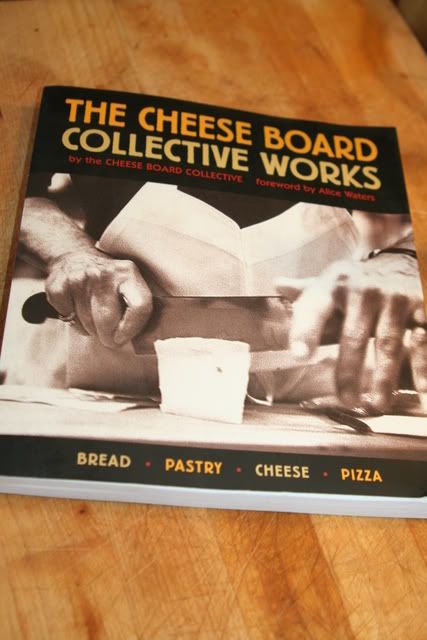 I love this book so much that I keep two copies- just in case something happens to one of them!
Did I mention obsessive? The Cheese Board is in Berkeley, California. They have outstanding breads and pizza. They are really known for their cheeses though, and have a huge selection. They also have an interesting pricing arrangement and you get a discount for being over 65, and a bigger discount the older you get. Cheese Board is located right across the street from Chez Panisse. If you ever get to San Francisco area it's a great place for foodies. The line at lunchtime for pizza is pretty long but worth waiting for.